One on One with Axel Alonso, Editor in Chief at Marvel Comics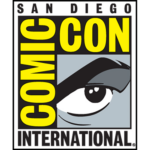 If you've ever been to Comic-Con in San Diego, you know who the star of the show really is: Marvel Comics.
Marvel is the reason why your kids can't get enough of heroes like Spider-Man, Iron Man, Hulk, and all those others. So, if you're at Comic-Con this year and want to thank, or curse, somebody for that, here's the guy you want to talk to. (Yeah, that handsome bald guy next to Spidey in the picture.) This man is responsible for your kid's superhero obsession. His name is Axel Alonso, and he's the Editor in Chief at Marvel Comics. That means:
When your child demands a Spider-Man costume for Halloween, it's Axel Alonso's fault.
When your young'un refuses to take off his beat-up, increasingly stained "superhero cape" well, Axel made 'im do it.
When all your hard earned money goes toward Captain America comics, Black Widow dolls, and Agent Coulson collectible cards, Mr. Alonso considers that a job well done.
So what's Marvel's big deal with your family? We decided to find out…
ABOUT AXEL ALONSO
Axel Alonso began his career as hardworking magazine writer and editor after earning a Masters Degree in journalism from Columbia University. In 1994, mostly out of curiosity, he applied for a job at DC Comics and—bang!—he got it. Six years later, Marvel Comics came calling and a new era of pop culture history began.
Axel arrived at Marvel with a mandate to reinvigorate the ailing Spider-Man franchise. Numerous bestsellers and motion picture blockbusters followed.
Mission accomplished, Mr. Alonso.
For most of the next decade, Axel has lent his considerable talent toward shaping the stories of Marvel's most classic heroes like Iron Man, Spider-Man, The Avengers, and the X-Men. His choices during this tenure in Midtown Manhattan have literally defined pop culture in America today.
In 2011, Axel he took on the role of Editor in Chief—or as USA Today described him, "The Main Man at Marvel Comics."
As EIC, Axel's in charge of every superhero comic published by Marvel—The Avengers, Iron Man, Captain America, Guardians of the Galaxy, Fantastic Four, and more. The stories he publishes in comic book form influence immeasurably the films your kids eventually see in theatres—and what our pop-obsessed society views as cool.
So, yeah, if your kid loves superheroes, it's definitely Axel Alonso's fault.
With that kind of influence in American families, we just had to find out more about the man (and the company) behind the many masks. What's Marvel Comics all about, really? Why are they so interested in your kids? And why do kids need superheroes anyway?
Fortunately, Axel Alonso is a pretty cool guy, and he generously took time out of his busy schedule to chat with parents in answering those questions—and more. Care to listen in?
Marvel's EIC Talks to Parents (and Us)
Us:
Axel, thanks so much for taking time to chat with us. Let's start off with the basics: In your own words, what is Marvel Comics?
AXEL ALONSO:
Marvel tells stories about human perseverance—about super-powered individuals who rise to impossible challenges. Our readers aren't rooting for the powers or the costume — they're rooting for the person inside the tights.
With Spider-Man, they're rooting for the kid from Queens who, when he's not saving the world, has to scrape to make rent; with Captain America, they're rooting for the 98-pound weakling who, through the miracle of science, was granted muscles that finally match the size of his heart.
Us:
Marvel Comics has become more than simply a "House of Ideas." Your company's superheroes and stories wield a significant influence on American culture. That's great power and, as Marvel taught us, it brings with it great responsibility. How does Marvel Comics handle that culture-shaping responsibility?
AXEL ALONSO:
With over 70-plus years of stories in the bank and counting, Marvel Comics is modern mythology – and we're well aware of the responsibility that comes with it. We take such great pains to portray our characters as the heroes they should be.
Our protagonists are models for life: people who rise above their personal baggage and insecurities to face great challenges and do great things.
Us:
Marvel Comics are loved by all ages, but we still associate superhero stories with children. In fact, some people think that comics and superheroes should only be for children. Others take the opposite view, saying that superhero stories don't provide good role models for emotionally healthy childhood development.
Both those perspectives raise one important question: Why do kids need superheroes?
AXEL ALONSO:
Kids need heroes. While parents should be role models for life, superheroes remind a child of the moral compass necessary to navigate a universe fraught with thrills and danger.
Us:
Kids are obviously an important part of Marvel's audience, as evidenced by everything from Spider-Man picture books to Iron Man kids' magazines to Super Hero Squad cartoons and a number of kid-friendly comic book titles.
Why is Marvel so interested in reaching kids today, when more adult-oriented products seem to make more money?
AXEL ALONSO:
I discovered comic books as a young boy. They taught me to read and helped shape my moral code – they are a part of my DNA. As Editor in Chief of Marvel Comics, I understand the importance of cultivating young readers that will have a similar experience; as the father of an 8-year-old boy who's a big fan of Spider-Man and Deadpool, I'm thrilled to see my son have a similar experience.
Us:
Some parents worry that Marvel Comics are too violent, political, sexualized, and so on. What would you like to say to those parents?
AXEL ALONSO:
Not all comics are intended for kids – which is why we label our comics for their intended audience. That said, most of our content is PG-rated material aimed at a multiplex audience.
Us:
If you and I were just hanging out at a barbecue, casually solving the problems of the universe over burgers and brats, what would you say is most important in life—and how is that reflected in your work?
AXEL ALONSO:
What's the most important thing in life? Sounds corny, I know, but love – finding it, earning it, giving it, sacrificing for it. It's why superheroes throw themselves headlong at impossible threats. Because their hearts overflow with it.
–MN
All product-related graphics in this article are standard publicity/promotional shots and are owned by their respective publisher.
---