Bible-Smart™ began back in 2014 as a weekly column on Beliefnet.com that ran for about a year. Written by practical theologian and bestselling author, Mike Nappa, the thinking was simply to look at Scripture, ask questions about it, and see what kind of answers might result.
Over the years, Mikey started collecting questions from friends and family as well, and then from anyone. Sometimes answering those questions was simply a matter of digging up info from a commentary or other resource in his private library of 500+ Bible reference books. Other times, well, he just had to say, "I'm not sure what the answer is, but here are the most popular theories floating around seminaries and pastoral study rooms."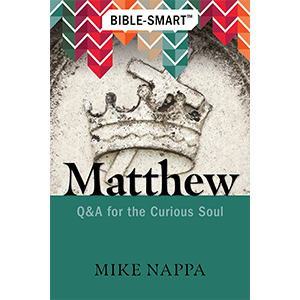 In 2022, Mikey decided to take Bible-Smart public, so the website Bible-Smart.com was born.
In 2023, the first Bible-Smart book was published—a passage by passage, Q&A commentary on the book of Matthew from Tyndale House/Rose Publishers. (You can find more info about that book here.)
---
Why Bible-Smart.com?
"I wanted a safe space to ask honest questions about Scripture," Mike Nappa says. "Someplace more like a coffee shop than a cathedral. That's why I created Bible-Smart™."
As a result, Bible-Smart.com is a place to discover the Bible, one question at a time. It really is Q&A for the curious soul.
Studying the Bible doesn't have to be a chore, Mikey says, and understanding God's Word doesn't mean slogging through commentaries stuffed with theological jargon. So Bible-Smart.com is an invitation to sit down together with him and talk about real questions everyone has about the Bible … without making it weird.
Every article on this website is a relaxed, enjoyable conversation through topics of interest from the Bible. Mike Nappa gives well-researched and thoughtful, yet nondogmatic answers to what you've always been curious about. Each Q&A entry can be read just a few minutes, making this place an easy resource for coffee-shop conversations, small-group Bible studies, ministry groups, or personal reading and devotion.
This is a new kind of Bible commentary for today's generation. Seminary is NOT required.
What's on Bible-Smart.com?
Here on Bible-Smart.com you'll find the following Q&A sections:
• Who?
This is where we keep questions about people found in history and the Bible. For instance, "Who was Jephthah in the Bible?" or "I don't know anything about Zerubbabel—who was he?"
• What?
Here are questions about places and things in Scripture. For example, "What was it like to live with leprosy in Jesus' time?" and "What made Egypt and Nazareth good choices for hiding for the child, Jesus?"
• Why?
This is where we tackle some of the questions that make us scratch our heads in wonder, such as, "Why was Peter so afraid of a little servant girl that he would deny even knowing Jesus?" or "If Jesus clearly promises 'you will receive what you ask for' in prayer, why do so many prayers go unanswered?"
• Others
Finally, this section is where we look at general interest topics and questions that don't fit easily into the "Who?" What?" or "Why?" categories—but which are important to explore anyway. Questions you might find here would include, "Do 'outer darkness' and 'weeping and gnashing of teeth' always refer to hell, or are there other interpretations?" as well as "How do the names given to Jesus in the Christmas story fit into our faith?" You'll also find general interest articles such as, "Praying through Romans in 31 Days" and "6 Creative Ways to Pray Unselfishly."
What If I Have a Bible Question of My Own?
Well, the good news is that Mike Nappa is still collecting questions and, as time permits, writing up "coffee-shop theology" answers for his readers. If you have a question you'd like Mikey to explore, feel free to send it to us. We can't promise he'll be able to respond to every one, but we will be sure he sees your question.
You can send your Bible question for Mike Nappa to us by using the "Ask" link on the website's menu above.
God bless you!
The Staff at Bible-Smart.com