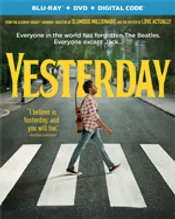 Yesterday tells the story of a mysterious, worldwide blackout, and a young musician who is the only person alive to remembers the songs of The Beatles afterward.
Rated PG-13, for for suggestive language and content.
Genre: Romantic Comedy
Viewer Appeal: Teens and Adults.
First, I must admit I'm no fan of The Beatles, nor of their deified status among Baby Boomers who claim to have experienced them firsthand. HOWEVER, my indifference for the Four-Chord Wonders is more than eclipsed by my unashamed fandom for Yesterday screenwriter, Richard Curtis. He's the only filmmaker to place a whopping three titles in my personal "Top 10 Movies of All Time" list (Notting Hill; Love Actually; About Time). So while I was tempted to skip Yesterday because of it's Beatles connection, I couldn't resist making time for a new Richard Curtis' movie. As expected, that Curtis touch made all the difference. ​
Here's the story of Yesterday:
Jack Malik (played by newcomer Himesh Patel) is a struggling young musician on the verge of giving up his career aspirations, ready to go back to a job teaching music to kids. His manager/roadie/driver/ biggest-fan/best-friend-since-childhood, Ellie (Lily James) convinces him to stick with it just a bit longer. Then … while riding his bicycle home after another lackluster performance, a bus careens into young Jack at the same moment when a worldwide power-outage spreads across planet Earth for 12 full seconds. When the poor lad wakes up in the hospital (with Ellie there to care for him, of course): "Everyone in the world has forgotten The Beatles. Everyone except Jack."​
Our hero finally figures out that he's the only one who remembers songs like "Yesterday," and "Sgt. Pepper's Lonely Hearts Club Band," and "Eleanor Rigby," and the rest. See, every time he plays a Beatles' song people think he wrote it, and are appropriately awed. So, armed with the catalog of any song he can remember by John, Paul, George, and Ringo, he quickly becomes the most successful singer/songwriter in the world. But with fame and fortune finally in his lap, why is Jack still so unhappy? ​
It takes only one simple "what if?"
As usual with a Richard Curtis movie, it takes only one simple "what if?" to spin a full-bodied story of curiosity, warmth, and surprise. I can't tell you how many times (six maybe, seven?) I thought I knew what was going to happen next, only to be pleasantly surprised by the, um, surprise that happened next. When a filmmaker can do that to a jaded movie-watcher like me several time over the course of 116 minutes, that gets my attention. Additionally, Curtis is a master at bringing uniquely-flawed, yet irresistibly lovable characters onto the screen. People feel like real people, even in the most absurd circumstances – a feat that few filmmakers can accomplish with consistency. ​
Drafting newcomer Himesh Patel to play Jack was a stroke of genius by director Danny Boyle. Tasked with not only acting the part, but actually singing and playing the world's most famous playlist of songs, it would've been easy for another actor to be "Brad Pitt playing Jack" or some other onscreen personality simply wearing makeup. But Patel's general anonymity combined with his significant talent allows us to see only Jack Malik evolving before our eyes, never "Famous Actor pretending to be Jack Malik." That kind of movie moment is rare, and welcome. ​
The Real Star of Yesterday
The real star of Yesterday, though, is the girl-next-door Ellie as embodied by the lovely Lily James. At times fierce, at others beautifully vulnerable, she's a constant pillar in this film, lighting up the screen every time she flashes a shy, adoring smile toward her lifelong crush. It's safe to say that this film centers on Jack Malik, but the story is about Ellie. ​
So, even though I'm a guy who kinda hates The Beatles, I was still impressed by Richard Curtis. Once again, he's crafted a beautifully-written, heartwarming story for people who love romantic comedies – and each other. Enjoy this one on a "Date Night" and then, if it seems appropriate, share it with your teen children for a "Family Movie Night" as well.​
Bonus features on the Blu-ray edition of Yesterday are plenty, and include: ​
Alternate Opening
Alternate Ending
Deleted Scenes

Corden & Roxanne – Includes deleted performance by Himesh Patel of "Something"
Late for School
Nutters Italian Ice Cream
Sortisimus
Moscow Audience
Alexa
A Gonk
W Hotel
Jack Calls Ellie
Hilary in the Mirror
Nick and Carol
Hazel's Selfie

Gag Reel
Live at Abbey Road Studios – Watch Himesh Patel perform "Yesterday", "I Want To Hold Your Hand", and "Let it Be" at Abbey Road Studios.

"Yesterday"
"I Want To Hold Your Hand"
"Let it Be"

Ed Sheeran: From Stadium to Screen – Acting in his first major role, Ed Sheeran reflects on his experiences making the movie.
Agent of Comedy: Kate McKinnon – Kate McKinnon shares how eager she was to play the role of "Debra Hammer" while the cast and crew reflect on the fun and energy that the queen of improvisational comedy brought to the set.
A Talented Duo – Richard Curtis and Danny Boyle, two of the most successful British filmmakers, team up for the first time.
Playing for Real – The re-interpreting of the Beatles songs was a huge undertaking for newcomer Himesh Patel. Learn how he spent months learning to play the songs perfectly as the production decided to take the more challenging route of recording the musical numbers live on set.
Soul Mates – Beyond the music and the laughs, the film is, of course, a love story. This piece looks at the relationship between Jack & Ellie and the actors playing them.
A Conversation with Richard & Ed – Long-term friends Richard Curtis and Ed Sheeran have a funny and informal chat about the making of YESTERDAY.
Feature Commentary with Director Danny Boyle and Writer/Producer Richard Curtis
Let's Talk About It …
If you were to summarize the main message of Yesterday into one sentence, what would it be?
What makes creative art (like music, books, images, and more) so meaningful to people? Explain.
In your opinion, did Jack "steal" The Beatles' songs, or did he honor their forgotten legacy? Defend your answer.
All product-related graphics in this article are standard publicity/promotional shots and are owned by their respective publisher.