Good news! Between April 1 – October 31, 2023, "Friends of Mikey" can receive a 25% discount on his book, Bible-Smart™: Matthew.
If you're here, that means you're a Friend of Mikey! So, here's how to get your discount: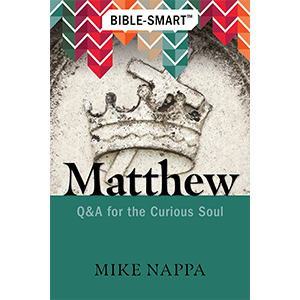 Visit the Bible-Smart: Matthew page on the publisher website.
Add Bible-Smart: Matthew to your cart, and click the Checkout button.
During checkout, enter this code: Matthew25
Get 25% off!
That's it! Thanks for your interest in this exciting new commentary for our generation.
---
What If I Have a Bible Question of My Own?
Well, the good news is that Mike Nappa is still collecting questions and, as time permits, writing up "coffee-shop theology" answers for his readers. If you have a question you'd like Mikey to explore, feel free to send it to us. We can't promise he'll be able to respond to every one, but we will be sure he sees your question.
You can send your Bible question for Mike Nappa to us by using the "Ask" link on the website's menu above.
God bless you!
The Staff at Bible-Smart.com